---
">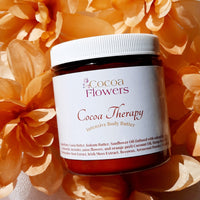 Sale
Cocoa Therapy Intensive Body Butter
Cocoa Flowers
Sale price $19.00 Regular price $25.00
Welcome to Greatness! Our moisturizing Intensive body butter is whipped to creamy perfection. The awesome combination of cocoa butter, kokum butter, and hemp seed oil provides all day hydration leaving you with healthy smooth skin.
Unscented - smells of natural cocoa butter.
Kokum Butter - Our favorite butter that has a laundry list of benefits. Rich in Vitamin E, Omega 3, and Omega 6. These vital compounds repairs damaged tissue and provides ultimate hydration by locking in moisture protecting the skins natural moisture barrier. Kokum Butter also works wonders to fight free radicals and accelerate the regeneration of skin cells to diminish signs of aging.
Cocoa Butter - Rich in phytochemicals and fatty acids which helps improve blood flow and elasticity, which protects against sun damage and slow the aging process. Cocoa Butter is known to smooth scars and dark marks, as well as minimize stretch marks.
Hemp Seed Oil - contains gamma-linolenic acid, omega 3 and omega 6, which acts as a powerful anti-inflammatory while encouraging new cell generation. Hemp seed oil is great for all skin types due to its ability to regulate the skins oil production. This fantastic oil moisturizes without clogging pores and also helps fight early signs of aging.
Use: Apply to clean skin as needed
8 oz Jar
EXTERNAL USE ONLY
If Irritation Occurs, Discontinue Use Immediately.
No Added Colors
No Toxic Chemicals
Products are derived from plant, seed, nut, and flower based ingredients.
This product is NOT designed, formulated, or intended to treat, cure, diagnose, or prevent disease; or systemic conditions.
You should never use on broken or irritated skin
Cocoa Flowers DOES NOT guarantee, imply, or determine any type of results based on personal goals.